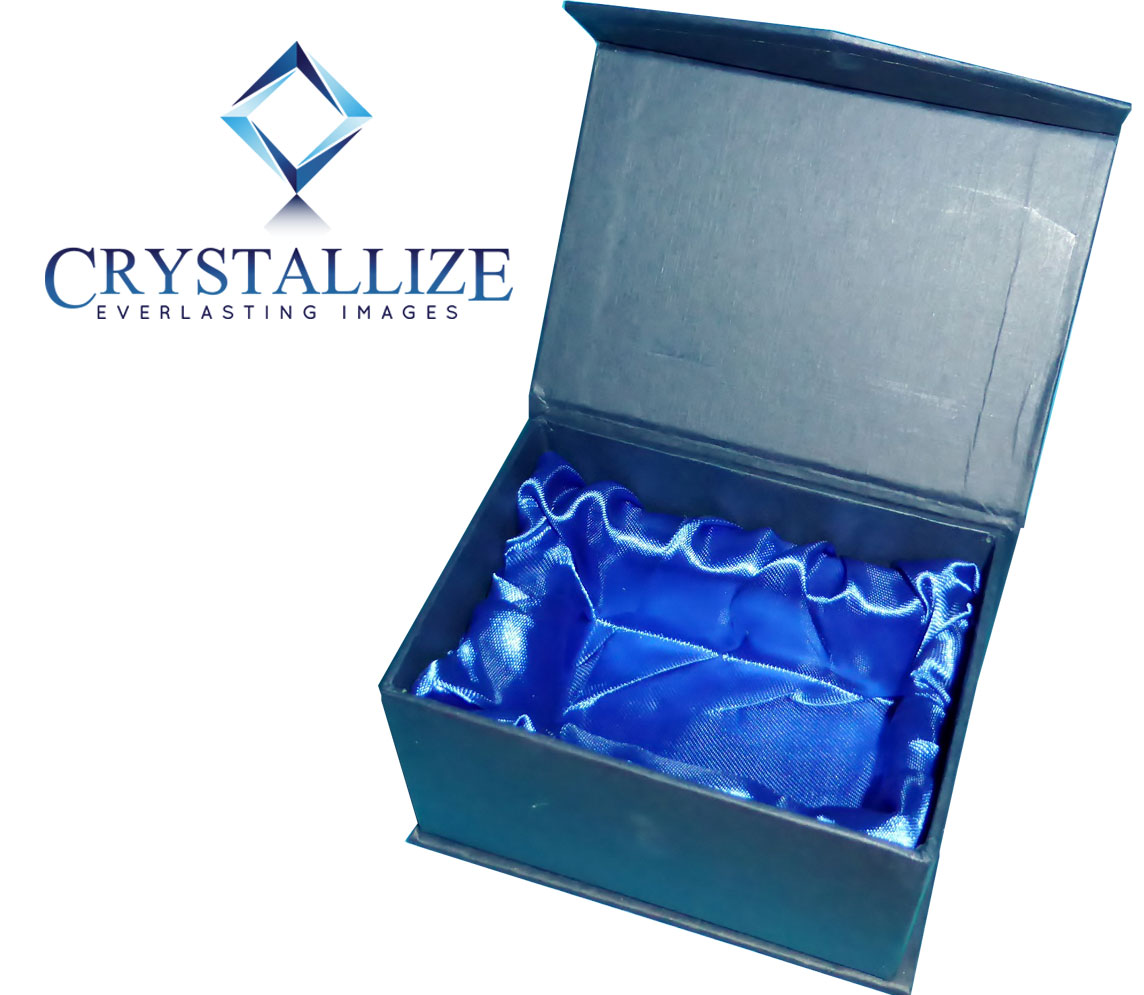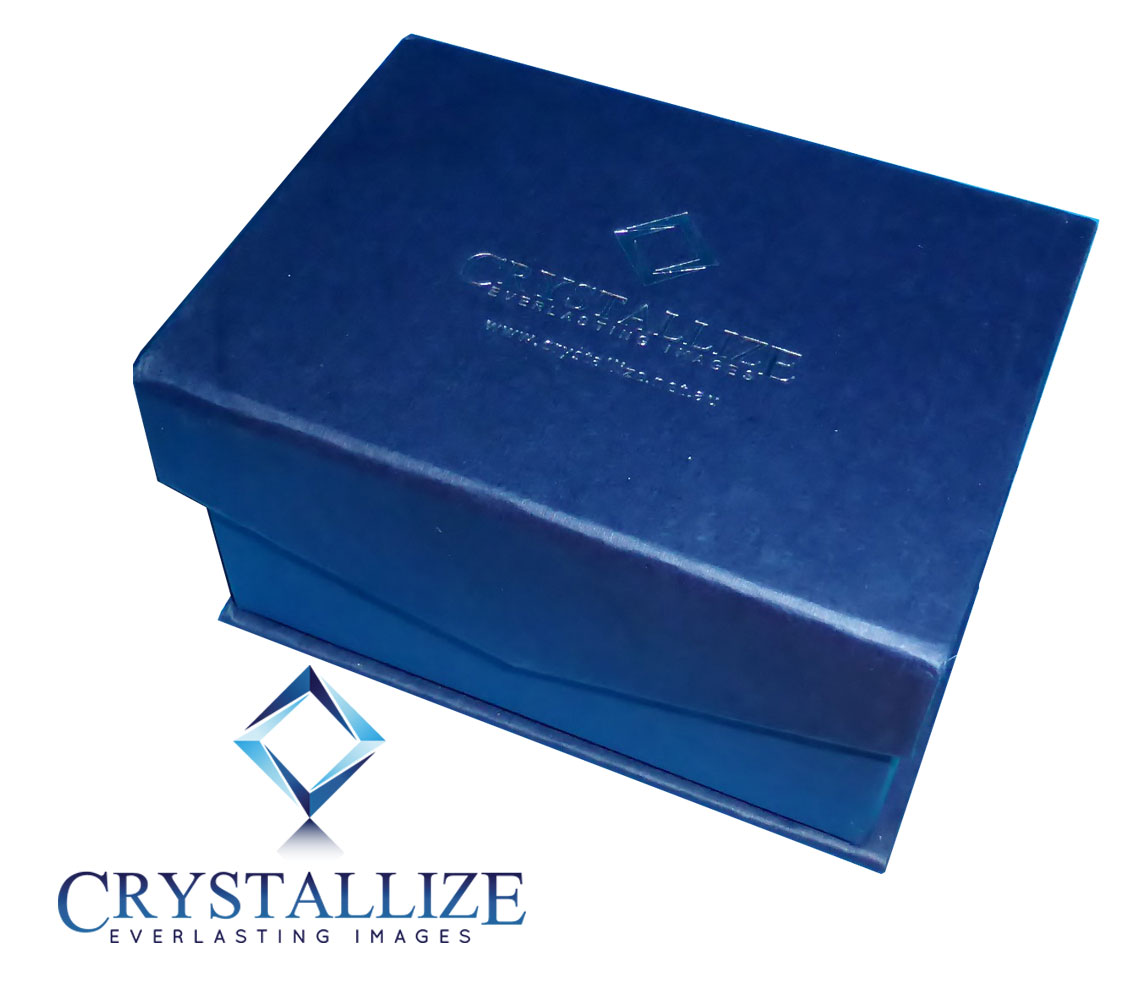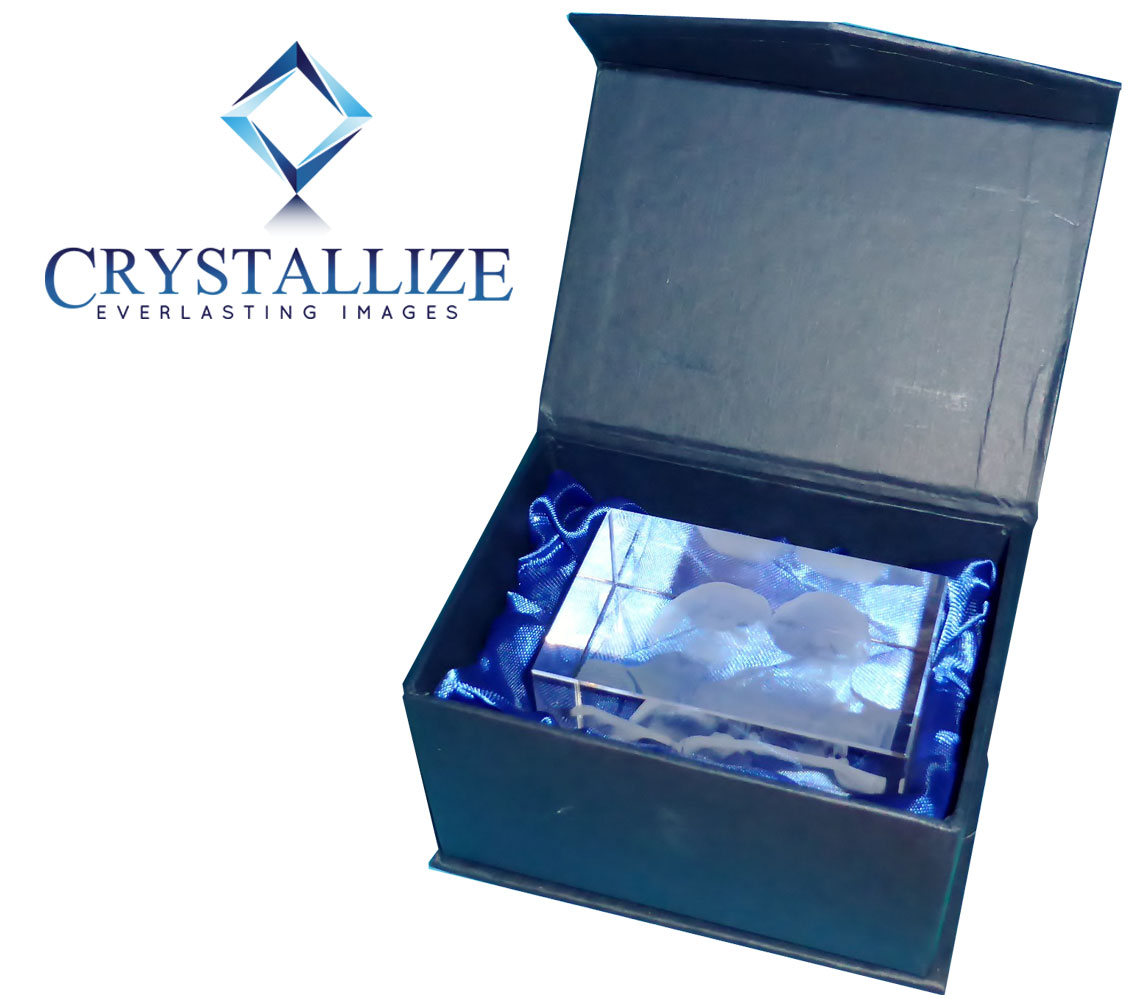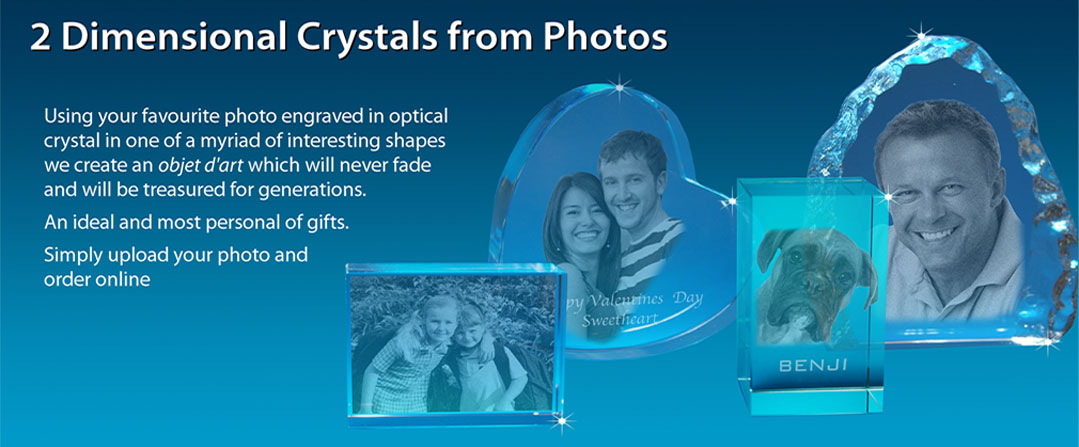 2 Dimensional Crystals from Photos
Using your favourite photo engraved in optical crystal in one of a myriad of interesting shapes, we create an object d'art which will never fade and will be treasured for generations.
An ideal and most personal gift.
Simply order online and upload your photo.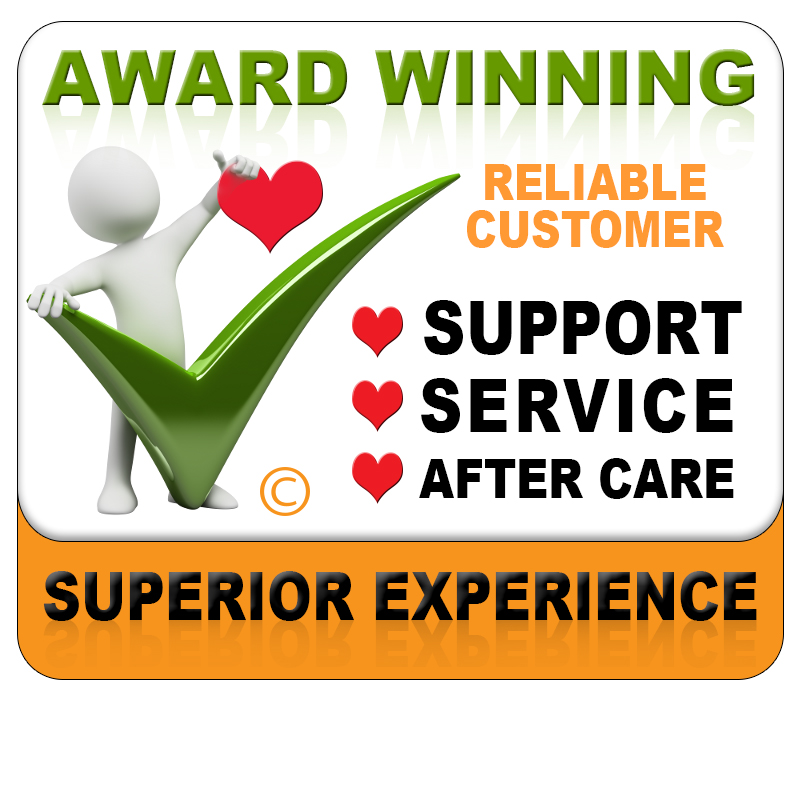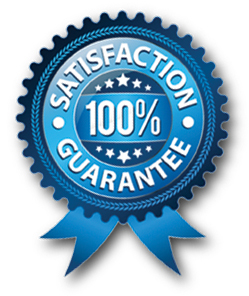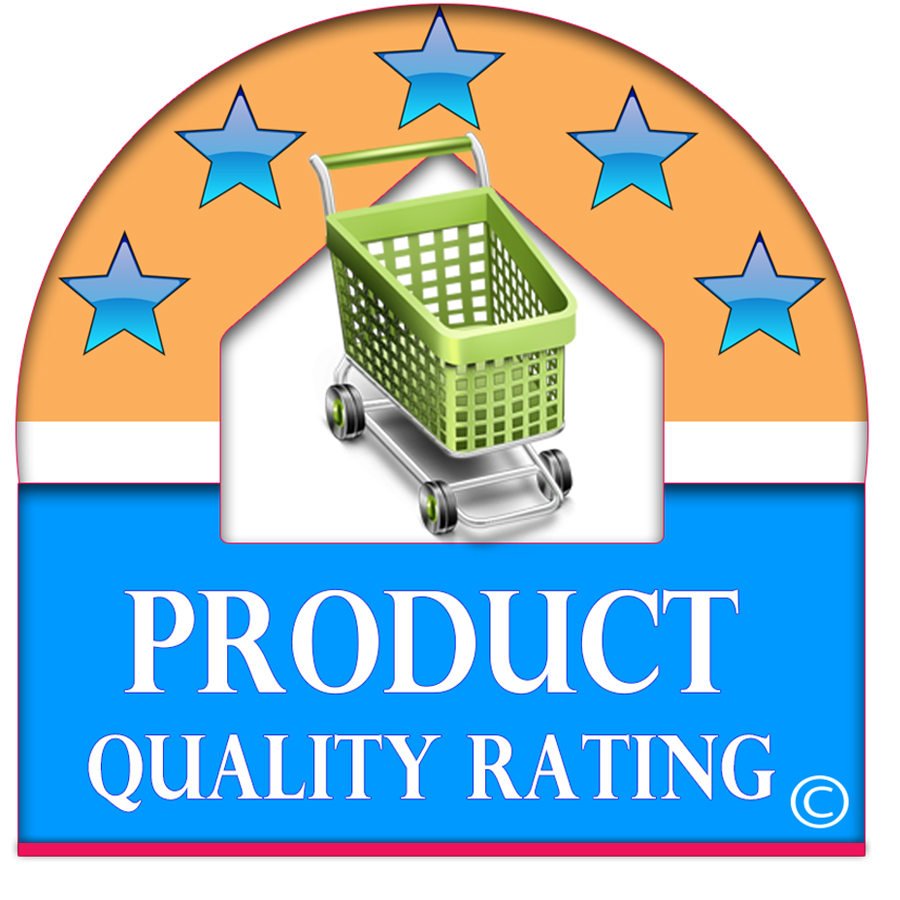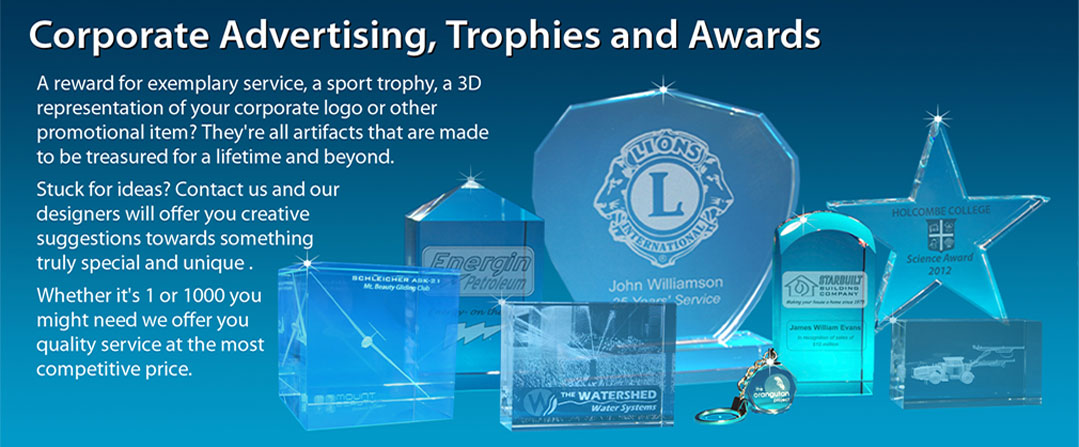 Corporate Advertising Trophies and Awards
A reward for exemplary service, a sport trophy, a 3D representation of your corporate logo or other promotional item.
They're all artifacts that are made to be treasures for a lifetime and beyond.
Stuck for ideas? Feel free to reach out to us, our designers will offer you creative suggestions towards creating something truly special and unique.
Whether it's for 1 or 1000 you might need, we offer you quality service at the most competitive price.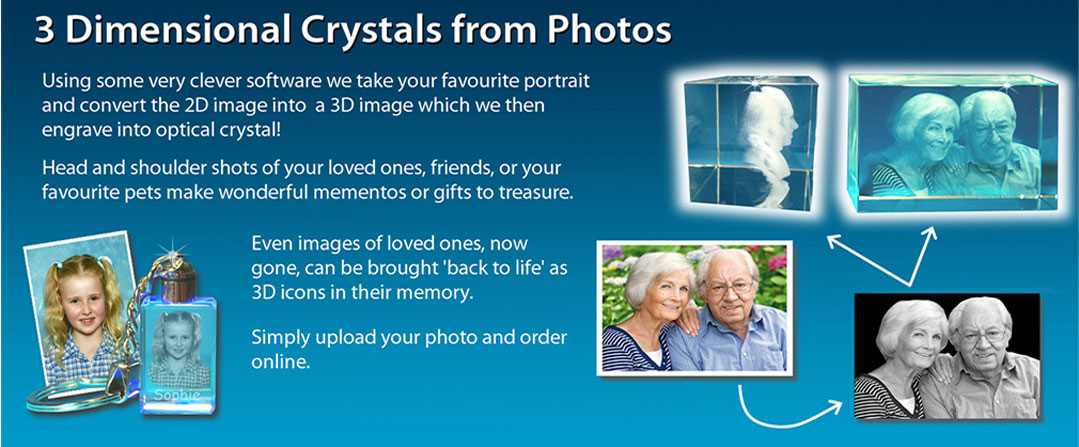 3 Dimensional Crystals from Photos
Using some very clever software, we take your favourite portrait and convert the 2D image into a 3D image which we then engrave into optical crystal.
Head and shoulder shots of your loved ones, friends, or your treasured pets make wonderful mementos or gifts to treasure.
Even images of loved ones now gone, can be brought back to life as 3D icons in their memory.
Simply order online and upload your photo.
3D School Photography
Very different to those school photos that get put away and seen only once in a blue moon!
Now a "living" 3D image of your child, laser engraved into optical crystal, an heirloom and wonderful record of a precious stage in your child's development as well as cherished gift for grandparents, friends and relatives.
Our photographer comes to your school to capture images with specialized 3D camera equipment*. Parents have no obligation to buy, complete satisfaction guaranteed.
If your school is interested, please contact us for further details.
We offer exceptional opportunities to raise funds for your school as well as special fund raising events your school participates in.
* WA only at this time.
Quality High Resolution Tourist Souvenirs
If you run a tourism based facility or retail outlet, these 2D or 3D sub surface engraved optical crystal souvenirs present opportunities to provide quality souvenirs for your clients.
They will be treasured mementos of their visit or a gift to share their experience with others.
Each is presented in a satin lined gift box with magnetic closing latch.
Our designers will work with you to create your unique artifact. This can include the creation of 3D images.